Hit Enter or click the button to search
Afterwork December 1st – Wine and Chocolate
DECEMBER AFTERWORK AT LA CITÉ!
We look forward to seeing you on Friday December 1st from 6.00 pm for a "Wine and Chocolate" themed evening. Enjoy a real moment of sharing at the bar "Les Accords" at La Cité in Beaune.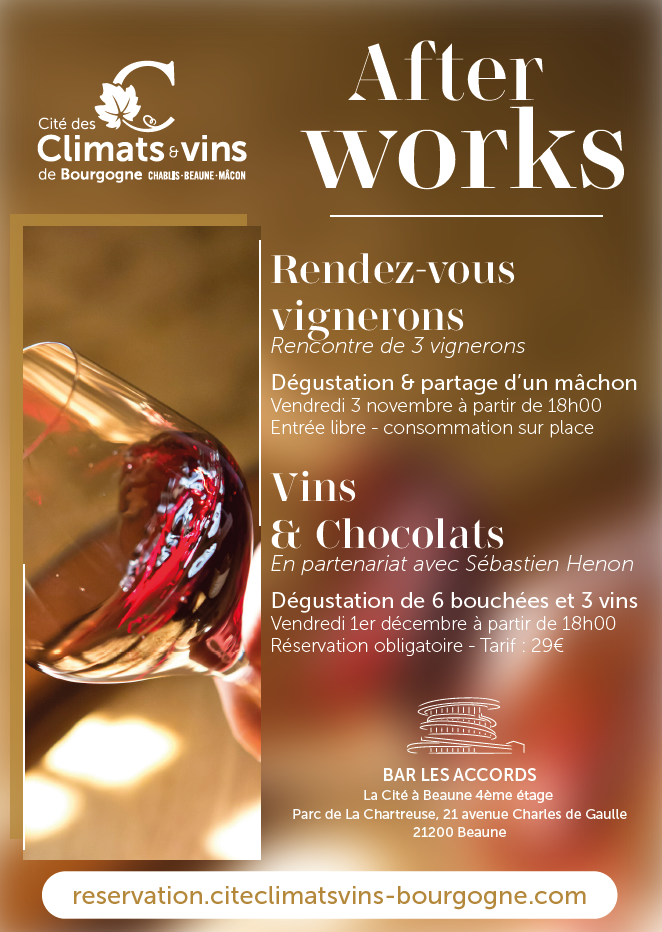 Find out more
Friday December 1st, from 6pm at Bar Les Accords on the 4th floor of the Cité des Climats et vins de Bourgogne.
Wine and Chocolate: let yourself be surprised by the subtle marriage of Bourgogne wines and artisanal bites from chocolatier Sébastien Hénon. A gourmet and educational experience based on the discovery of sweet and savory chocolate pairings.
Reservations required on our website, €29 per person (6 bites + 3 wines to taste).
More Informations
Bar "Les Accords" Cité des Climats et vins de Bourgogne à Beaune
Parc de la chartreuse – Av. Charles de Gaulle, 21200 Beaune