Hit Enter or click the button to search
New Wine Bar in Chablis
In the heart of the Cité in Chablis, discover Ponti'Bar, the new Wine Bar in Chablis.
This summer you will be able to enjoy the bar and its fitted out terrace to taste Burgundy wines ! If you are a little bit hungry, we also offer a selection of jars, chacuterie/ cheese boards and sweet delicacies.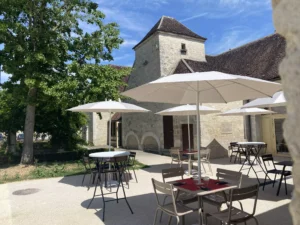 Our products are selected with particular care and come mainly from local artisans. An excellent way to introduce you to some of our local specialities.
HOURS
The Bar Le Press'Bar is open :
From March 1st to November 5th
Tuesday to Thursday – 11:00 a.m. / 6:30 p.m.
Friday and Saturday – 11:00 a.m. / 8:00 p.m.
Sunday – 11:00 a.m. / 6:30 p.m.