Hit Enter or click the button to search
Dramatised visit in the Cité of Chablis, Beaune and Mâcon
Throughout the year, the Cité des Climats et vins de Bourgogne offers a varied cultural programme adapted to families and children.
This summer, we're offering you a dramatised visit, like a live show in the heart of our three Cité in Chablis, Beaune and Mâcon. During this guided tour, Thomas Volatier will take you on a journey through the history of the vineyard ! On the programme :
Discover the hidden secrets of our vineyards
Discovery of the vineyard and its Climats
A journey through 2000 years of History
For adults and children, gourmands and curious…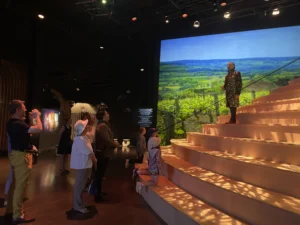 PRACTICAL INFO :
In Beaune : Sunday August 20 at 10 a.m.
In Chablis : Tuesday August 15 at 10 a.m.
In Mâcon : Tuesday Auguste 15 at 3 p.m.